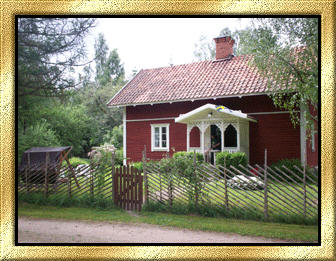 We found our little paradise. This is where we go to charge our batteries. Sometimes together with friends but often just the two of us and our four legged darlings Fleur and Bert.

The croft lies by it self, in the middle of nowhere, with deers and elks just around the corner. In our barn a hooting owl has it's home and sometimes we have seen him get a visit from another owl. Maybe we will see some babies in the future!?
We have wonderful paths that leads us to small lakes were the dogs just loves to take a swim. In the forest we found a funny little cottage made of logs. Inside is a comfortable place with seats and a grill.

In the summer of 2005 we arranged a meeting for bikers. To ride a bike is one of our big passions. Round the barbecue that night we were about 20 "knuttar" and "spettor" and we were all in a very good mood. The bikes made a lot of noise, like growling, in the forest that night. It looked really impressive with all the bikes standing next to each other, one by one. We hope to do this ones again in the near future.
Click to enlarge picture.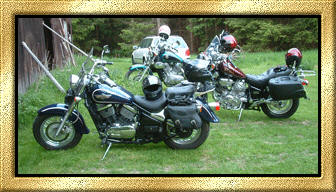 In the summer the flowers are in full bloom in all of our flower beds. It's a puzzle to figure out what's flowers and what's weed. Weed can sometimes look really beautiful. The former owners loved to fix in the garden and they planted a lot of different flowers we don't even know the names of. Maybe we don't really have those genes, but we do what we can. Luckily we have a lot of friends with "green fingers", so with some bribes as; great food, coffee and pastry, the flower beds usually turns out wonderful. Thanks for that!