| | |
| --- | --- |
| Dizza, Hans, Ringil, Anita, Enzo and Hassan | We both come from the wonderful, beautiful town Nynäshamn. This "city of the sea" is placed about 60 km south of Stockholm. Nynäshamn is a very harmonious and quiet town to grow up in, with a beautiful archipelago and where a boat is a "must" for each and every family. |

1975 Hans company (SGI, Statens Geotekniska Institut) moved from Stockholm to Linköping and we decided to follow. At that time our big interest for dogs started to grow.

"Blackie"

1976 we bought our first dog, a fantastic Bearded Collie called BLACK-ABRAHAM "Blackie". He was a lovely male and unbelievable easy to learn. We went to shows and participated in the BC-group working test with good results, we trained obedience and started to heard sheep with him.
The hearding was a bit slow at the start, but Hans was patient and persistent and later on the herding instinct came along quite quickly. On his first hearding competition, arranged by Klubb Herden, he was 'approved for herding'. We were very happy about that! Klubb Herden was created by us and the very popular and competent ANDERS GLAD, in front of a group of enthusiasts and owners of uncommon herding breeds.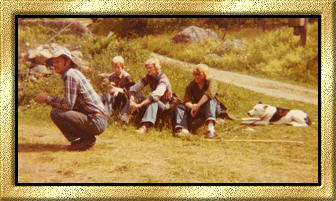 ANDERS GLAD

Our interest for herding really came strong at 1978 and we went for a trip to England to study how to work and command dogs with whistles. We got very well taken care of by our hosts and the familys took us to a lot of herding competitions, obedience classes, sheep cutting etc etc. A trip full of learning and a trip never to be forgotten.

GLEN and DOT

Back in Sweden again and with a lot of inspiration we bought two Border Collies, GLEN and DOT, from our companion in herding; Anders Glad.
We started training directly by hovering behind the sheep carrying both puppies. We could see the puppies great concentration and hereditary character for herding. When they got older we used a long leash until we could control them with obedience. An exciting, interesting and instructive time, and after about 10 months we had two ready herding dogs controlled by whistles. Later on they both moved to cattle farmers were they did great contribution to the daily work.

EVA

Our daughter EVA was born in November 1978 and our son MICHAEL was born in Februari 1980. They both grew up in an intensive life of dogs. They had to come along with us to dogshows, mental tests, obedience, dog meetings, herdings etc etc. One time a puppy buyer told us that he felt there should be a law for every breeder to have children, because his dog was really happy to meet small kids.
Right now Eva studies to be a social worker at the University of Örebro and Michael works at Green Cargo in Hallsberg.

MICHAEL

Our first Belgian came to us 1977 and it was the unbelievable handsome and charming Tervueren male CARDINAUX "Nalle". Our love for the breed hit us like lightning and we were hooked for life.

A big interest for the Breed Club Association woke up and we started to work with the unique breed register for Belgians. Later on the club started a register for replacements and a register for referens of puppies, and we were the administrators of both. Hans was selected to the board with different assignments as member, secretary and chairman. Along with us, a group of other enthusiasts started a local district of the club, N-V-D (Närke-Värmland-Dals) and we arranged activity meetings, official shows, mental tests etc etc.

Our curiosity of the rough Belgian, The Laekenois, made us take contact with other enthusiasts all over the world. We felt like "one in the family" and got a lot of help from all the people we connected with on our way. We are most greatful for that.

Our first Laekenois CILLI VOM FLOESSERDORF came from Switzerland 1984. It was a huge tragedi when the train took her life only 2 months after her arrival to us. Fred and Lucie Schmid-Joggi (vom Floesserdorf kennel) had newborn siblings to Cilli at home, at that time, and offered us a new puppy. After some time the great loss of a Laekenois got to heavy and we accepted the offer. 1985 the wonderful Laekenois female DIZZA VOM FLOESSERDORF came, and set the Laekenois foundation in our kennel, Fannyhill.

A lot of significant Belgians have joined and left our lives. All of them have left unforgettable tracks and we introduce them to you under UNFORGETTABLE.