VALTELINA VAN DE HOGE LAER "FLEUR"


1997-06-01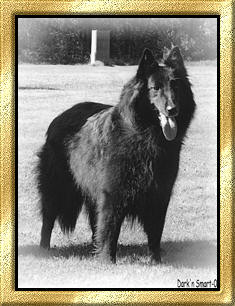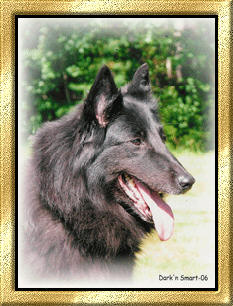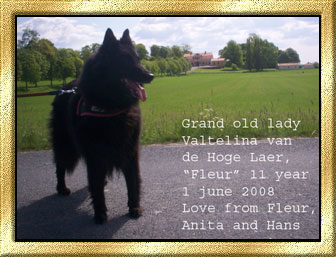 Our first meeting with the 4 months old Fleur at our Laeken inventory in Belgium was extremly positive. We can understand why the breeders had a hard time letting her go. She took us all like a storm and we really fell in love with her. She was very curious and not scared for anything.
It was really hard to say goodbye after spending a day with her, but the regulations to get a puppy into Sweden were really tough at that time.
Fleur moved to the Bopp family in Denmark and stayed there for the next 6 months. Our wait got a little bit longer than expected, because of her anti bodies against Rabies wasn't high enough. But, at Fleur's first birthday our wait was over and we could finally take her home with us.
Her beautiful look, enormous coat and lovely expression made everyone asking about her as a stud female. They were interested to have a puppy from her.
Fleur was mated for the first time in 1999 with an English import with enormous charisma, Vanistica Equinox. After great pressure from puppy buyers we mated Fleur a second time in 2004, this time to the grand Finnish import Donatrix Hyvä Suomi.
Fleur, alias Flörkis, is a wonderful female who gives us so much in our lives. We are so greatful to have having her. Thank You!


BERT-DOISLAGOS "BERT"


2001-10-25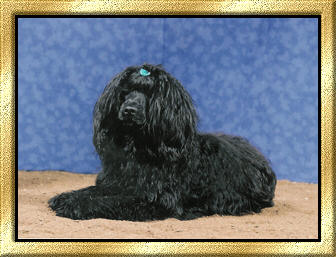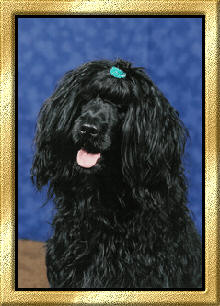 Bert is a bouncy and mischievous Portugese Water Dog. He followed us home after a Christmas celebration together with Anitas sister and family. The thought was to take him home just to get him used to different surroundings and environment, but who could let a charmer like him go back? We couldn't...
Bert was a new experience for us, as you know we only had Belgians from before. Bert was well behavied already from the puppy box, very easy to deal with and he has great capacity to bring up our puppies when we have a litter.
Eva, our daughter, has been training and competing in agility with Bert, but because of her studies she had to let that go.
He is very fond of water and bathes when ever he can. Big oceans but also small pools of water is enough for him. As long as it's wet...
We are very happy to have Bert in our lives with all of his pranks, our Bert-skärt, Bert-Ola, Bertan and Rump-Nisse. Huge thanks to my sister Bibbi and her husband Bertil!